Where's Sara?
Hike to High Hut-
Visit Mount Tahoma Trails for a picturesque Northwest 'Swiss Alp' experience. I was looking for a destination hike to escape the crowds, see new scenery, and breathe fresh air !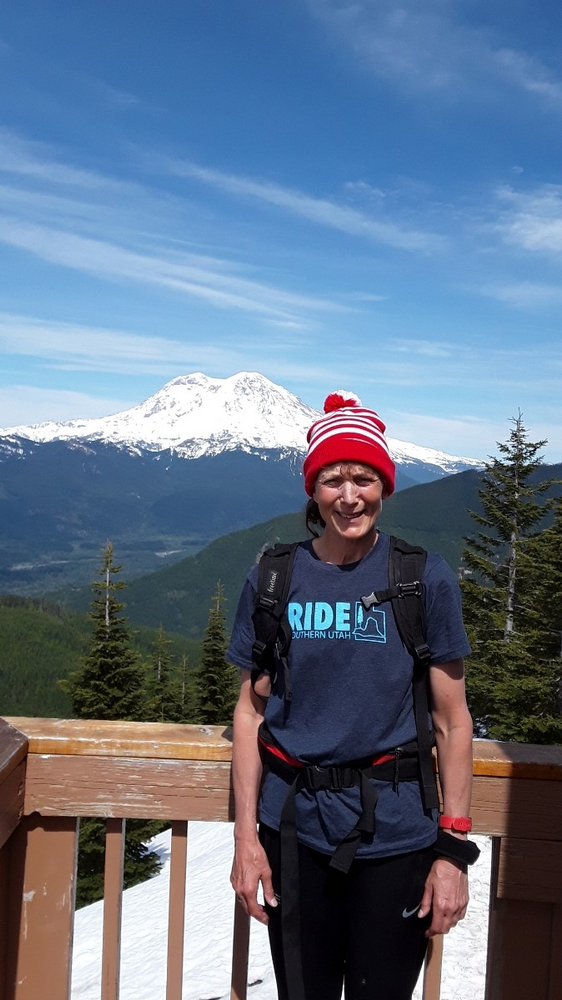 I had heard about the Mount Tahoma Trails with its hut- to -hut ski/snowshoe for winter adventure and was excited to check it out for a springtime hike. I researched the area and chose the hike to High Hut. The hike is 6.0 miles round trip with 1,800 feet of elevation. The spectacular 360 degree view at the top (4,760 ft) is worth the steep climb. Follow the blue signs and you can't get lost.
Getting to the trailhead is a two hour drive from Woodinville to the quaint town of Elbe, a short distance from Mount Rainier National Park Nisqually entrance (see directions below). Park in the upper sno-park parking lot. You will need a Discover Pass.
The hut was closed due to Covid19 when I was there but you can peek in the windows and imagine what your stay could be – very cozy and comfortable. Normally the huts are open all day and are available to reserve for overnight stays (www.skimtta.org)
The view from High Hut doesn't get any better. It displays the Pacific Northwest mountain peaks in full glory! On a clear day Mt. St. Helens, Mt. Rainier, and Mt. Adams are spectacular.
I sat on the deck of the hut relaxing into the beauty so peaceful and serene. I truly felt I was in a mountain chalet in the Swiss Alps- I didn't want to leave.
Be prepared with your 10 essentials and beware of snow still on the trail. I used my trekking poles for a little extra help. When you finish your trek to the High Hut stop for an apres adventure treat in Ashford, WA – a few miles up the road from Elbe to Whittaker's Espresso and Ice cream a well-deserved treat!